Why You Should NOT DIY Electrical Works
Sometimes, we think fixing electrical problems is as easy as changing a light bulb. Indeed, we do not need an electrician to change our light bulbs at home, but other electrical works aren't as simple.
Electrical Protection Act 2002 states define electrical work as "the manufacturing, constructing, installing, testing, maintaining, repairing, altering, removing, or replacing of electrical equipment" in residential and commercial properties. These activities are meant to be handled only by licensed electricians. Attempting DIY electrical work can cause you a lot of problems. In this blog, we will share with you why you shouldn't try electrical works on your own.
What is considered electrical works?
You must be aware of what-not-to-do to avoid doing them, right? According to the Electrical Safety Board of Queensland Government, these activities are considered as electrical works:
replacing the switch of house lights
installation of power points
changing the location of a powerpoint
replacing the plug at the end of the extension leads
installing a ceiling fan in place of a light fitting
repairing household appliances no matter the size and issue
All of these activities must be done by professional and licensed electricians. However, buying an electrical appliance and other necessary materials for electrical work is not prohibited. Still, the condition remains that the electrical work is handled only by authorized tradesmen.
What are the negative effects of DIY electrical work?
Apart from being illegal, people who do unlicensed electrical work are faced with the dangers of electrical shock. This accident can be fatal for them as well as their families. Even when you think you have managed to do the electrical work successfully, you are not sure when it will backfire. Will you risk your loved one's safety when they come in contact with faulty electrical work?
DIY electrical work can also cause an electrical fire. Unlike ordinary fire, extinguishing electrical fire has a different method. Whether you are knowledgeable about it or not, it is more difficult to deal with electrical fire. Therefore, preventing such an occurrence is the best thing to do.
As mentioned above, unauthorized electrical work is punishable by law. Electrical safety officers in Queensland are investigating unlicensed electrical work and can cause you a huge sum of money for penalty and/or imprisonment.
What are the penalties for unlicensed electrical work?
DIY electrical work is considered unlicensed electrical work. People caught doing DIY electrical work can be faced with penalties of up to $40,000.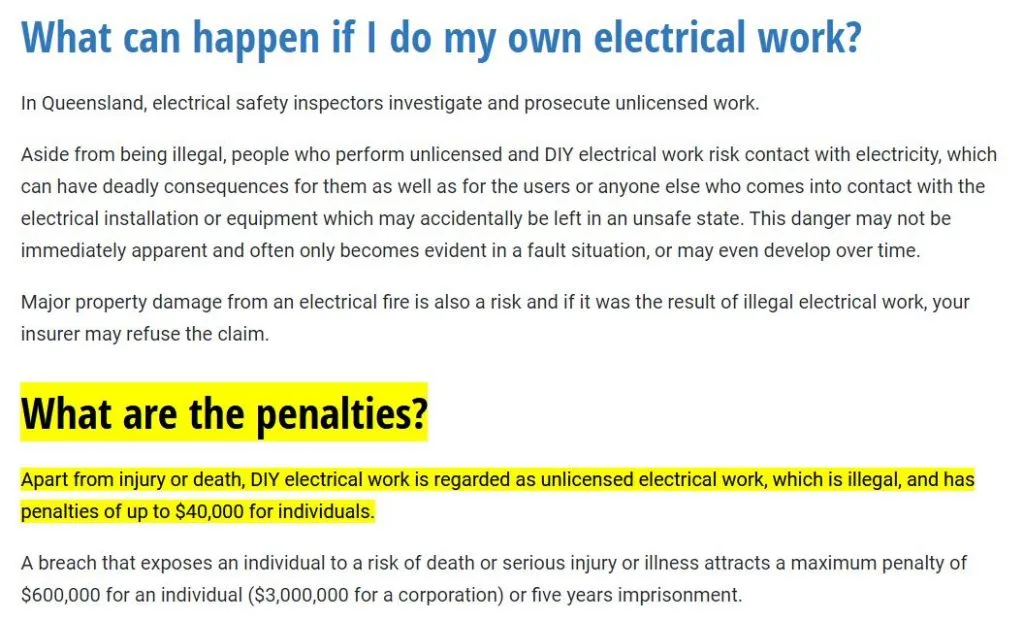 In more serious cases, which typically involve the destruction of properties and causing injuries to other individuals, penalties are stricter. An incident caused by DIY and unlicensed electrical work can get you a maximum penalty of $600,000 ($3,000,000 for a corporation) or five years imprisonment.
Therefore, doing unauthorized electrical work is a no-no. Don't attempt to work on your household electrical system as it can endanger you and your family. It can lead to disasters that are better off prevented with the help of a licensed electrician.
Should you need the help of licensed electricians for your electrical works at home? Talk to us today so we can give you the appropriate solutions.