What to look for in a maintenance electrician for your business premise?
Do you need a maintenance electrician for your business premises? It is crucial to find the right specialist for this job. You want someone who has an eye for detail, can be trusted with access to your facility and has dealt with all sorts of electrical-related problems before.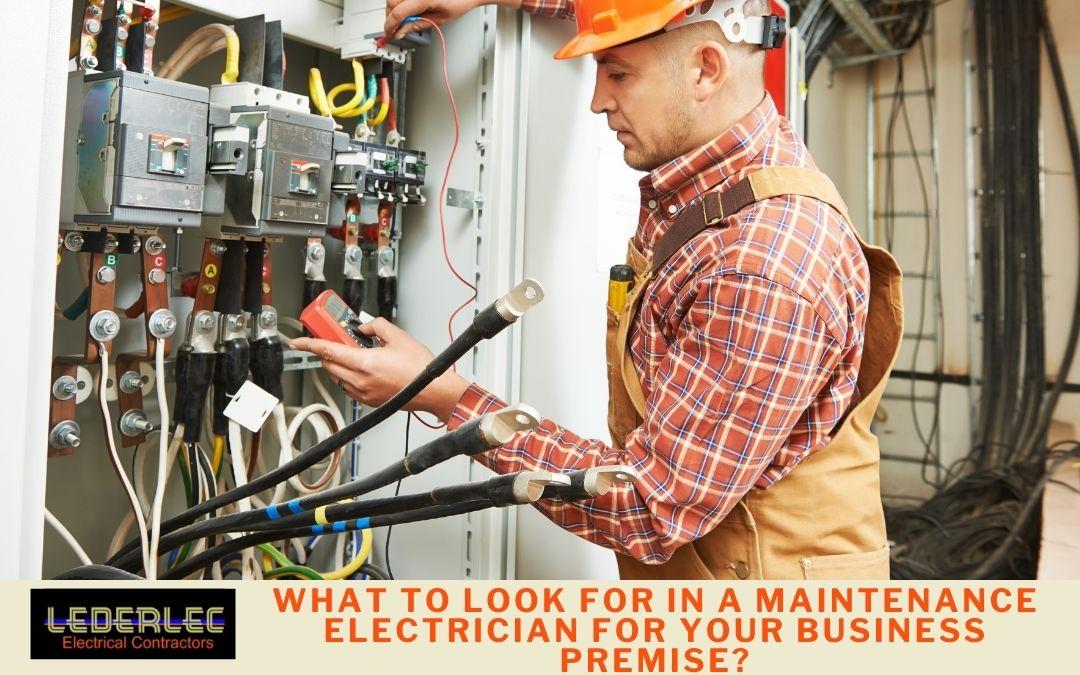 Here are some tips on what to look for in a maintenance electrician for your business premises.
Years of experience they have in the field
Do you know the years of experience of the electrician you're choosing? If they are not licensed professionals then it can be difficult to tell, but this is something important to ask before hiring them.
Their years of experience will let you know how much knowledge they have in dealing with electrical maintenance. This assures you that they know what they're doing in this field and the job you require them to do.
Many things go into an electrical maintenance service for business owners, so it's important to hire someone who has the right skills and enough experience in electrical maintenance.
Their insurance and its coverage
The next thing you need to look for in an electrical maintenance company is their insurance and its coverage. Their insurance must have coverage with all their electrician's work on your site.
It should also indicate their liabilities with things such as the following:
Power outlets
Safety devices like fuses or circuit breakers
Installation and repair related issues with wiring
electrical equipment like generators and air conditioners.
All Queensland licensed electrical contractors are required to have ten million dollars of public liability insurance. It's an unfortunate reality that electrical malfunctions can occur at any time. It doesn't matter if you're a small business or a large corporation, it's important to be aware of these things to have peace of mind with your electrician and their insurance coverage.
Type of certifications and licenses they have
If you are looking for electrical maintenance, it is important to know what certifications and licenses your electrician has. There are many different qualifications that an electrician can have; some of them can be more helpful than others depending on the type of work they do.
The electrician needs to have a license from the Australian Government's National Code of Practice for Electrical Safety before they can work on any wiring projects. Make sure to request a copy of these documents before hiring them. A reputable electrician should have no problem showing their licenses, certificates, and accreditation.
Do they specialize in a certain area (e.g emergency repairs or commercial electrical work)
Electrical emergencies can happen at any time and must be resolved quickly for you to avoid expensive repair costs, business operation downtime, and worst, fire.
Many electrical maintenance companies provide an emergency electrical service, 24/7. This means that you don't need to wait long before getting a professional to help you. You'll never know when an electrical emergency can happen, so it's best to hire an electrical company that offers this kind of availability.
Any online reviews and testimonials about them from their other clients
Another thing to look for in an electrical maintenance company for your business premises is, the online reviews and testimonials about them from their previous clients. You may start looking up on their website and check their review section.
You can also go to Google and check their rating and reviews. The reviews and testimonials from their previous clients will give you insight into their work and what they've done well. Or, you may also look over their social media pages to see what people say about them.
You can also go the old-fashioned way of asking the electrical company for a copy of their previous clients; Then you can ask them about the work record of the electrical company for your reference.
Lastly, you need to check on the service price of the electrician you plan to hire. Are they offering a reasonable price for the work that needs to be done at your business premises? What are the coverages of their services?
Electrical companies have different service prices and quotes. Some may tend to cost a little more than the other but it's justified by the inclusions in their service. This will help you compare their price to other companies and see which one suits your budget and needs.
Finding a reliable electrical company to maintain your business premises is one of the most important decisions that you'll make.
When it comes to selecting an electrician, there are many things to consider including their level of experience and certifications, customer reviews, price points, emergency repair availability. But ultimately these aspects should be determined on what's best for you and your own business needs.
For professional help on how to go about this all, let us know. We offer free consultations that will provide advice on what type of service is best suited for your business needs.
Call us and get your free quote.